by Mark Hughes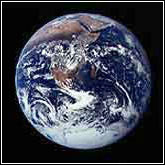 Related Links
Pulling Us Down
Does size equal mass?
Keep in mind that size does not mean bigger mass. Imagine two balls that are about the same size, like a soccer ball and a bowling ball. Will they have the same mass? No.
Gravity is Never Pushy
Gravity always pulls, it never pushes. For instance, Earth pulls on the Moon, but the Moon also pulls on the Earth. Imagine a giant playing a game of tug-of-war with an elf. You would think the giant could yank the cord, pull over the elf, and win the game. Not so fast, because the elf also has mass and is strong enough to resist the giant but does not have enough strength to pull away completely. This is just like the relationship between Earth and the Moon, the Sun and the planets, and anything else with mass.
Sir Isaac's Observation
For instance, Earth is very large compared to your computer and your backpack. Keep in mind that your computer and backpack both have mass and create their own gravity, but Earth is much bigger. Earth is so big that it easily overpowers the gravity made by your items. This means that any object that falls on Earth, no matter its size, will fall at the same speed. Drop your computer and backpack off a bridge at the same time and both will accelerate, which means speed up, at the same rate. The only thing that would slow them down is air resistance. You can feel air resistance if you open a window in a moving car and stick out your hand. The speed of the car will determine the strength of the air hitting—resisting—your hand.
Gravity is all around us. It keeps us safely on Earth's surface instead of floating out into airless space. Gravity keeps the Moon around Earth, and keeps Earth moving around the Sun. Life on Earth would not be the same without it.